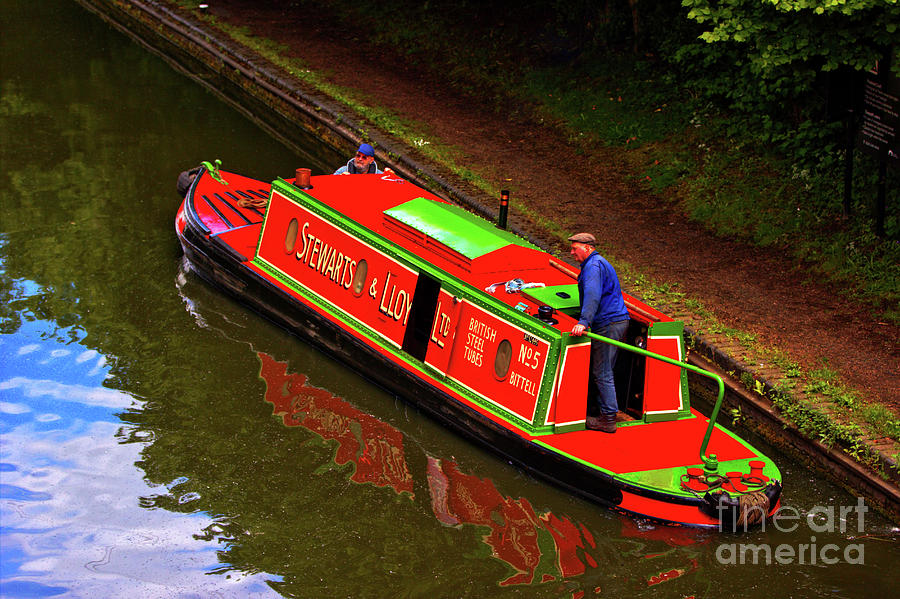 Medium
Photograph - Print
Description
In 1933 Stewarts & Lloyds were looking to increase their fleet of tugs. Quotes were sought, and two new tugs were commissioned from Yarwood & Sons of Northwich, Cheshire.
'Bittell' (or Tug 5 as it was then called) was built alongside a sistership 'Pacific' (or Tug 4). Only the hulls were built at Yarwood's. Both were finished in July 1934. The hulls were taken down to the Black Country to have their cabins fitted by Harris's Boat Yard at Bumble Hole, Netherton. The engines were also fitted here. Both boats were fitted with a four cylinder Fordson tractor side valve engine running on T.V.O. (Tractor Vaporising Oil). The engine produced 27 horse power driving through a three speed manual gearbox.
The boats were 40' long with a 6'6″ beam and a 2'8″ draught. Both hulls were made of riveted wrought iron and had rounded chines enabling them to be also used for ice breaking. They weighed around 12 tons and were delivered to the Stewarts & Lloyds Coombswood Works, Halesowen in September 1934.
Their main role was to go up to the Cannock Coal Fields with empty day boats and return with around ten tons of coal in each boat. Up to about five day boats were strung together on each tug, despite each tug being able to haul around 100 tons! They would drop some full day boats off as they passed S&L site at Bilston, and then carry on to S&L at Coombswood with the rest.
Men would shovel the coal out of the boats into the hungry furnaces. The tugs would then return to Cannock for more coal. And so it went on, and on…
In 1958 Tug 5 and Tug 4 were laid up together at S&L's, Springvale site, Bilston. British Waterways bought the two tugs that year intending to use them for maintenance duties and ice breaking. Tug 5 was re-painted in the British Waterways blue livery and it's engine replaced during the late 1960's with a 1959 Lister HA 3 cylinder engine with Blackstone gearboxes, the Lister engine producing 33 horse power at 1800 rpm. (Bittel still carries this engine.)
Tug 5 went to Lower Bittell on the Worcester & Birmingham Canal. This is where it got its name. The Bittell was used to keep the Worcester & Birmingham Canal ice free, especially in the winter of 1963, where it played a vital part in keeping the channel clear.
Bittell could often be seen moored at the top of Farmers Bridge Locks in Birmingham. This is where Charlie Atkin's Jr, the son of 'Chocolate Charlie' Atkins lived. From the mid-1970's until 1985 he kept Bittel on behalf of British Waterways and would often be seen operating the tug for British Waterways doing maintenance jobs, such as delivering pilings etc.
In 1990, Nick Fazey from Dudley Canal Trust was at British Waterways Workshops at Bradley, having the trust's trip boats hulls painted in the dry dock. He spotted a rusty old tug half sunk up the end of the Bradley Canal Arm. Nick had been looking for a tug to tow the trust trip boats around to and from events so it would save on battery power – negotiations between Dudley Canal Trust and British Waterways (BW) commenced and a lease drawn up. Dudley Canal Trust became the custodian's of Bittell.
Uploaded
November 19th, 2020
Statistics
Viewed 50 Times - Last Visitor from Shenzhen, 30 - China on 09/14/2022 at 2:37 PM